Robotics Air Filters
UAF's moisture-resistant, cleanable filters meet applicable enclosure-level standards like UL, MIL-STD, NEMA and IP ratings
UAF is the robotics industry air filtration leader offering custom products for indoor and outdoor robotics applications including:
Industrial Robots
Manufacturing Robots
Autonomous Delivery Robots
Industrial Floor Scrubbing Robots
Security Robots
Personal Robots
Inventory Management Robots
Agricultural Robots
Universal Air Filter is the robotics industry leader for indoor and outdoor robotics applications.
The precision required from robotics applications requires system designers to ensure clean, dry and cool operating conditions. The diversity of environments where robotics applications are being deployed can create unique filtration challenges. Dusty warehouses or cold, rainy outdoor surroundings and other harsh environments each create unique air filtration challenges.
UAF's flame-retardant, water-repellent, cleanable air filters meet applicable enclosure-level standards like UL, MIL-STD, NEMA, and IP ratings.  These filters will protect internal components from dust and water mist with flexible frames, sturdy metal frames, or screens.  UAF's ultra-thin framed filters can be built to combine two-stage filtration with a dust and hydrophobic media solution.  Water-repellent, low pressure drop filter media reduces the ingress of airborne moisture and dust without jeopardizing the flow of critical cooling air.

---
UAF supports full compliance with stringent industry standards:
UAF Filtration Products for Robotics Air Filters
---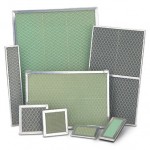 Quadrafoam Air Filters
Quadrafoam™ air filters offer low pressure drop, fire resistance, and the ability to capture large amounts of airborne dust in industrial enclosure applications.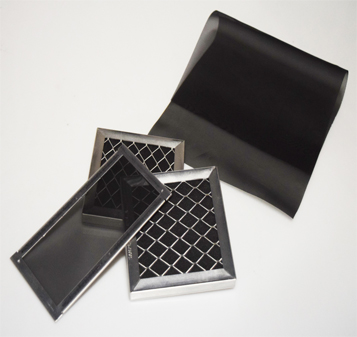 Hydrophobic Mesh Filters
Hydrophobic Mesh air filters offer a water-repellant, low pressure drop media to reduce ingress of airborne mist and other liquids on indoor and outdoor enclosures deployed in harsh environments.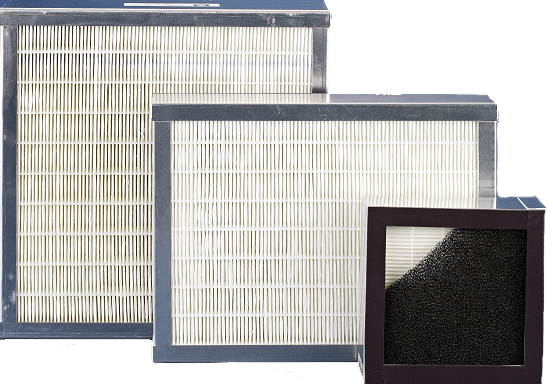 Outside Plant Filters
Custom Outside Plant Air Filters keep dust, water, wind driven rain and salt fog out of electronics enclosures that use fresh air and direct air cooling systems.
Flex-Frame Air Filters
Flex-Frame air filters use flexible, flame retardant, polypropylene plastic. They are laser cut to spec allowing virtually any frame profile to meet the needs of the most challenging applications.