Industrial Air Filters
Robust filters to meet the diverse needs of industrial and commercial OEMs
Custom UAF products are configurable to meet the widest range of industrial filter applications:
Electronic Displays
Air Compressors
Chromatography
Beverage Dispensers
Airport Baggage / Cargo Scanners
Variable Frequency Drives
Security & Surveillance
Industrial Dehumidifiers
Casino Gaming Devices
Commercial Printers
Water Cooled Heat Exchangers
UAF offers a variety of products to meet equipment protection requirements for industrial and commercial applications.
All UAF industrial air filters are UL compliant and can be configured with EMI shielding capabilities. Rugged foam media and metal mesh offer low pressure drop and the ability to capture large amounts of airborne dust while withstanding harsh weather and environmental conditions. Outdoor applications are well suited for cleanable foam and metal mesh media offered in a sturdy aluminum framed assemblies. Indoor applications are served with cleanable foam media as well as disposable polyester. For product service and maintenance improvement, pleated filter media offers increased dust holding and extended filter life.
---
UAF supports full compliance with stringent industrial and commercial standards:
NEMA
UL 900
UL 94 HF-1
RoHS
IP
CE (EN 60950)
EU1-EU4
REACH
UAF Filtration Products for Industrial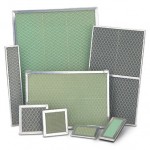 Quadrafoam Air Filters
Quadrafoam™ air filters offer low pressure drop, fire resistance, and the ability to capture large amounts of airborne dust in industrial enclosure applications.
Polyester Air Filters
Polyester air filters offer high dust arrestance & low resistance when installed in electronics, computer, telecom, datacom, medical and general purpose equipment
Outside Plant Filters
Custom Outside Plant Air Filters keep dust, water, wind driven rain and salt fog out of electronics enclosures that use fresh air and direct air cooling systems.
Metal Mesh Air Filters
Metal Mesh filters are ideal for use in harsh environments where rugged, washable and reusable filters are most appropriate.