Rugged foam media and metal mesh media offer low pressure drop and the ability to capture large amounts of airborne dust while withstanding harsh weather and environmental conditions. Outdoor applications are well suited for cleanable foam and metal mesh media offered in a sturdy aluminum framed assemblies. Indoor applications are served with cleanable foam media as well as disposable polyester. For product service and maintenance improvement, pleated filter media offers increased dust holding and extended filter life.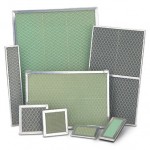 Quadrafoam Air Filters
Quadrafoam™ air filters offer low pressure drop, fire resistance, and the ability to capture large amounts of airborne dust in industrial enclosure applications.
Polyfold Air Filters
Polyfold filters are excellent for filtration where high dust-holding capacity & low resistance are important. Uni-Foam & Quadrafoam™ media are used for permanent, cleanable applications.
Electrostatic Air Filters
Polypropylene Mesh Media is a washable and highly durable alternative to disposable filters and other cleanable media
Outside Plant Filters
Custom Outside Plant Air Filters keep dust, water, wind driven rain and salt fog out of electronics enclosures that use fresh air and direct air cooling systems.