Medical Air Filters
Custom solutions for critical medical equipment
Custom solutions for critical medical equipment
UAF specializes in custom products for medical device applications:
Imaging Equipment
Blood Analyzers
Aesthetic Lasers
Research Cleanrooms
Laboratory Equipment
Laboratory Animal Cages
Sterilizers / Autoclaves
Robotic Surgical Instruments
Life Sciences Analyzers
Pharmacy Dispensing Systems
UAF offers a variety of products to meet critical reliability and safety requirements for medical equipment. Custom framed filter assemblies with tailored media configurations allow designers to specify the optimal filter for applications as a more desirable alternative to non-compliant off-the-shelf products.
Air filter products are available in low pressure drop and high dust loading configurations and meet UL / CE for medical device applications. Fire retardant Quadrafoam™ filter media is available in cleanable open cell foam or disposable non-woven polyester. EMI shielding requirements are met with aluminum honeycomb, available as Dual EMI air filters or EMI vent panels.
---
UAF supports full compliance with stringent medical electronics standards:
CE (EN 60950)
UL 60950
UL 94 HF-1
---
UAF Filtration Products for Medical Devices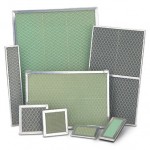 Quadrafoam Air Filters
Quadrafoam™ air filters offer low pressure drop, fire resistance, and the ability to capture large amounts of airborne dust in industrial enclosure applications.
Polyester Air Filters
Polyester air filters offer high dust arrestance & low resistance when installed in electronics, computer, telecom, datacom, medical and general purpose equipment
Dual EMI
The new Dual EMI Honeycomb filter provides superior shielding against electromagnetic interference & is specially designed for electronics, telecom & datacom..
High Efficiency Air Filters
Custom high efficiency MERV 11 and MERV 15 pleated filter products from UAF offer high dust loading for maximum service life while reducing airflow resistance.