Data Center Air Filters
OEM Approved Air Filters to Optimize Data Center Performance, Improve Energy Consumption and Reduce System Maintenance
The most important data center maintenance task is ensuring equipment runs at optimum efficiency with clean air filters. UAF is the industry leader for data center OEM equipment air filter solutions. UAF filters are OEM approved, meet industry standards, and are ready for production. We maintain all of the OEM specs for aftermarket replacements.
---
Applications:
CRAC Units – Re-usable, washable pre-filters
OEM approved server, router and switch air filters
Rack Cooling
UPS / backup power
Storage
---
UAF supports full compliance with stringent computer networking standards:
UAF Filtration Products for Data Centers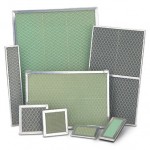 Quadrafoam Air Filters
Quadrafoam™ air filters offer low pressure drop, fire resistance, and the ability to capture large amounts of airborne dust in industrial enclosure applications.
Polyfold Air Filters
Polyfold filters are excellent for filtration where high dust-holding capacity & low resistance are important. Uni-Foam & Quadrafoam™ media are used for permanent, cleanable applications.
High Efficiency Air Filters
Custom high efficiency MERV 11 and MERV 15 pleated filter products from UAF offer high dust loading for maximum service life while reducing airflow resistance. 
Flex-Frame Air Filters
Flex-Frame air filters use flexible, flame retardant, polypropylene plastic. They are laser cut to spec allowing virtually any frame profile to meet the needs of the most challenging applications.