EV Charging
UAF is the market leader in custom filters that protect DC fast chargers for electric vehicles.
Custom solutions for the EV charging industry
UAF specializes in custom products for EV applications:
EV chargers require protection from wind-driven rain, moisture, dust, and in some locations: salt fog. Protect your DC fast EV charging station with a filter that meets the needs of your equipment, and improves your charger uptime.
We can partner with you to spec in a filter during your EV charger design cycle, or help you retrofit filters into your chargers already deployed in the field that may be experiencing reliability issues without the protection of a robust filter. Our filters help our customers maintain 98%+ uptime levels in their field equipment.
UAF's filters are designed to be cleanable, and made just across the river from St Louis in Sauget, Illinois, meeting the requirements outlined under the Build America, Buy America Act (Pub. L. No 117- 58, div. G §§ 70901–70927).
Three of our most popular product lines to protect EV chargers include the PentaVent, Weather Resistant, and OSP series. At a glance, they offer the following:
| | | | |
| --- | --- | --- | --- |
| Specification | PentaVent | Weather Resistant | OSP |
| Thickness (Inches) | .50″ | 1.5″ | 2″ |
| Price | $ | $$ | $$$ |
| Avg Dust Arrestance | 91% | MERV15 | 99% |
| IP Rating w/o louvers | IP44 | IP54 | IP65 |
| Flame Rating | UL94 HF-1 | UL900/UL94 HF-1 | UL900 |
| Cleanable | Yes | Semi-cleanable | No |
| Salt Fog Reduction | Minimal | 85% | 99% |
| Pressure Drop | Low | Medium | Medium |
| Media | Two Stage Quadrafoam/Hyrdrophobic mesh | Three Stage PentaVent/Pleated High Efficency Media combo | High Efficency Membrane Pleated Media |
---
UAF Filtration Products for Transportation Devices
PentaVent™ Filters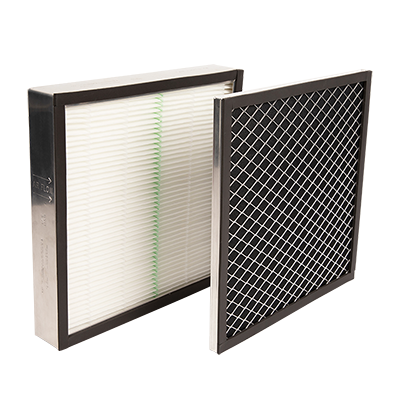 Weather Resistant Air Filters
Outside Plant Filters