Custom Air Filter Products
Customized air filtration for real world environments.
UAF is a custom designer of framed air filter assemblies for electronics, communications, medical and industrial equipment. Request a Prototype or look below for information on our entire line of custom air filters and custom accessories.
---
Quadrafoam Air Filters
Quadrafoam™ air filters offer low pressure drop, fire resistance, and the ability to capture large amounts of airborne dust in industrial enclosure applications.
Pentavent™ Air Filters
PentaVent™ is UAF's thinnest outdoor framed filter offering at .5″ thick, providing robust protection to outdoor cabinets and electronics enclosures with minimal encroachment into the cabinet's space.
High Efficiency Air Filters
Custom high efficiency MERV 11 and MERV 15 pleated filter products from UAF offer high dust loading for maximum service life while reducing airflow resistance. 
---
Dual EMI Air Filters
The new Dual EMI Honeycomb filter provides superior shielding against electromagnetic interference & is specially designed for electronics, telecom & datacom.
Windowpane Air Filters
Windowpane air filters are the ideal solution to meet the low profile and edge-to-edge filter needs of communications electronics applications.
EMI Vent Panels
Custom EMI vent panels are the ideal solution for electronics enclosure applications with high frequencies and limited space.
---
Polyfold Air Filters
Polyfold filters are excellent for filtration where high dust-holding capacity & low resistance are important. Uni-Foam & Quadrafoam™ media are used for permanent, cleanable applications.
PyroCide Air Filters
Custom PyroCide Vent Panels are the ideal solution for electronics enclosure applications required to meet stringent flame safety standards.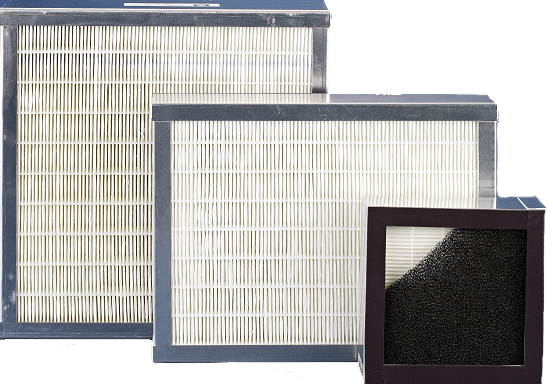 Outside Plant Filters
Custom Outside Plant Air Filters keep dust, water, wind driven rain and salt fog out of electronics enclosures that use fresh air and direct air cooling systems.
---
Flex-Frame Air Filters
Flex-Frame air filters use flexible, flame retardant, polypropylene plastic frames.
Polyester Air Filters
Polyester air filters offer high dust arrestance and low resistance when disposable filters are most appropriate.
Uni-Foam Air Filters
Uni-Foam fan air filters are designed to provide high dust arrestance where a permanent, cleanable filter is required in medical equipment, electronics, computer, telecom, datacom and general purpose equipment.
---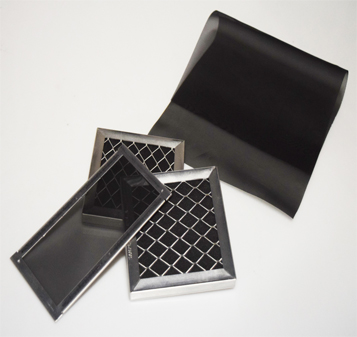 Hydrophobic Mesh Filters
Hydrophobic Mesh air filters offer a water-repellant, low pressure drop media to reduce ingress of airborne mist and other liquids on indoor and outdoor enclosures deployed in harsh environments.
Metal Mesh Air Filters
Metal Mesh filters are ideal for use in harsh environments where rugged, washable and reusable filters are most appropriate.
Air Filter Kits
Universal offers custom air filter replacement kits for aftermarket service of servers, telecom, datacom, and other electronics equipment.
---
Air Filter Accessories
UAF can configure your custom filter with accessories and features designed to improve installation into your equipment.
Weather Resistant Filters
Weather Resistant Filter solution delivers outstanding protection for electronics enclosures deployed in harsh outdoor environments, allowing designers to utilize ambient air to cool vented systems.
Electrostatic Air Filters
Polypropylene Mesh Media is a washable and highly durable alternative to disposable filters and other cleanable media
---