Seven Air Filter Design Tips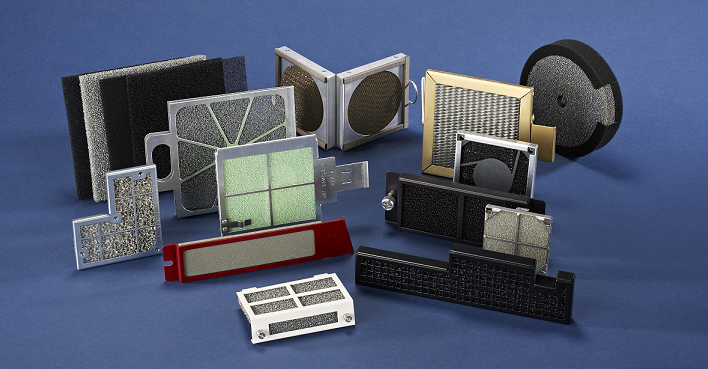 Basic air filter specification begins with selecting filter dimensions to meet airflow requirements and size constraints, then selecting a media configuration to meet performance and industry requirements. However, design improvements may be necessary to meet the challenges of the most demanding applications. Engineers and designers can further optimize filter design by relying on Universal Air Filter Company's expertise with thousands of custom applications. Keep these tips in mind for the next application to further enhance design.
1. Size Matters
Many designers know that larger filters allow for greater airflow. But did you know that thicker media allows for better depth-loading and longer operating life? Using thicker media with a lower porosity rating (PPI) can increase dust loading and filter operating life compared to a thinner media with a higher porosity rating. By adjusting the porosity rating, the thicker media can be configured to maintain the initial resistance and dust arrestance of thinner media options.
2. Fewer Parts = Lower Cost
Integrating filters into an enclosure design can help reduce overall assembly cost by replacing components such as bezels or faceplates to reduce the number of purchased parts. With custom sheet metal capabilities and metal finishing options, an air filter can be integrated into an enclosure design to replace bezels, faceplates, or mounting brackets while matching the design athletics and performance of other purchased parts.
3. Think Outside the Rectangle
Gain additional surface area for greater airflow and dust holding using pleated filter media or multisided "box" style filters. Moving from a flat rectangular panel filter to a pleated media or multisided filter can increase airflow area when the filter footprint is limited and additional airflow is required.
4. 3D CAD Design Templates Simply Design Process
Use 3D CAD design templates to simply design process: UAF offers free 3D CAD downloads for custom parts along with datasheet/drawing downloads for fast and easy design specification. Download custom generated 3D models to review fit within an enclosure. Downloaded models can be further modified to include complex features such as mounting holes, handles, and other features before requesting a made to specification, free prototypes.
5. Multistage Filters Increase Operating Life
Using multiple media configurations within a single filter assembly allows for larger particles to be captured in the lower efficiency media before the airflow moves to the higher efficiency media used to capture smaller particles. This helps to eliminate rapid pressure drop increases associated with higher efficiency media. Relatively open 10 PPI or 25 PPI media can be used to capture larger dust and dirt while higher efficiency 45 PPI or 60 PPI media captures the fine dust further downstream. The dual stage filter helps prevent face-loading the dust which blocks off airflow and quickly increases the pressure drop.
6. Filters are More Than Dust Catchers
Filters are more than dust catchers – Air filter media solutions often meet industry requirements besides dust filtration. UAF products have proven to prevent water ingress, meet industry safety guidelines such as arc fault requirements, function as an opacity shield for security applications, as well as other requirements not directly associated with air filtration. UAF products help designers meet a variety of challenges using standard filter media. UAF also provides products in addition to air filter products including EMI shielding solution and PyroCide fireblocks.
7. Accessories Solve Installation and Removal Challenges
Thermal design is just one of the issues that engineers must address when specifying an air filter. Filter installation and removal can also pose unique challenges for many applications. UAF has developed a variety of solutions to meet the unique requirements of any unique application. Fasteners ensure that the filter stays securely mounted during operation, handles and tabs allow easy removal after installation, foam and rubber gaskets help prevent air bypass or water ingress by providing a secure fit between the filter and enclosure, and specialty features such as hinges or brackets can be integrated into a filter to solve unique challenges.